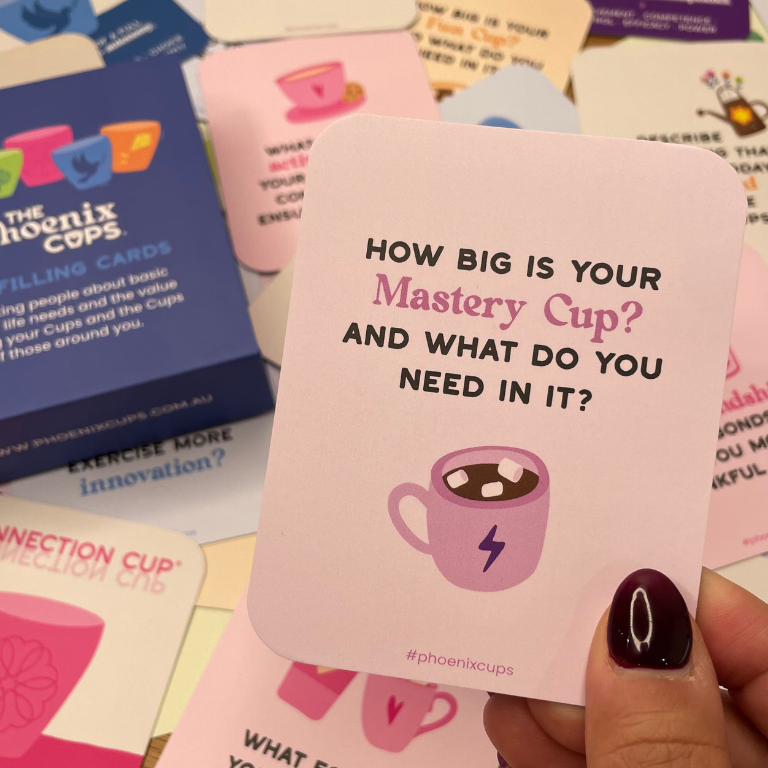 Phoenix Cup Filling Cards + Plan
Phoenix Cup Filling Cards - educating people about basic human life needs and the value of filling your cup and the cups of those around you.

Perfect for Groups, Teams, Families, and Individuals, the Phoenix Cup Filling Cards pack comes with 52 cups cards designed to educate, inspire and create awareness. Printed on thick, matte laminated card, these cards are neatly organised in a recycled card box for easy storage.

Instruction cards are included and an additional support resource, 'the Phoenix Cups, My Cup Filling Plan', will be included with your cards. This resource includes facilitator information on the meaning of each of the cups.

The Cards:

These cards were designed to inspire thoughtfulness about basic human needs with an underlying mood of gratitude and thankfulness. Inspired by Dr. William Glasser's choice theory, these cards will evoke productive conversations that will motivate new ways of thinking about self-care and mindfulness while fostering more fulfilling relationships.

Who are the Cards for?

These cards are great for a group, team or family to encourage open communication, foster respect and to raise awareness of the level of your cups and the cups of others.

The Phoenix Cup Filling Cards are ideal for:

-Teams
-Groups
-Families
-Individuals

How to us Phoenix Cup Filing Cards?

* Use the cards to support reflective conversations in team meetings
* Use the cards to inspire thoughtfulness about other people's basic human life needs
* The cards are designed to support awareness of their own basic human life needs and to increase a sense of wellness and wellbeing.
* Using the cards will focus conversations in staff meetings so they are solution focused and strength based.
And much more!

ISBN: 978-0-6487058-3-3

BONUS: This resource comes with a complimentary hard copy of our A5 booklet, My Cup filling plan.
---
---
Share this product: