"You don't look like you're enjoying your job, what are you stressed about?"
"I have so much paperwork", sighs the educator with a furrowed brow as she looks up between piles of folders, and trimmed pieces of paper. "I design an activity based on the children's interest, I implement it, I reflect on it, I document it, I link it, I extend on that activity with a follow up, I write another ob, I plan another follow up. All these expectations are really getting me down... I'm drowning in documentation".
"Where are these expectations coming from, who expects this of you?", I ask with genuine curiosity.
"It's what we're supposed to do……… isn't it?"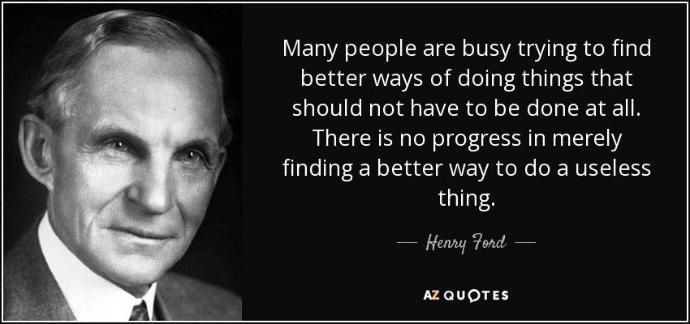 Henry Ford said, "Many people are busy trying to find better ways of doing things that should not have to be done at all. There is no progress in merely finding a better way to do a useless thing".

I believe this applies to many practices that are causing stress for educators. To name a few:
·  Herding children all at once from indoors to outdoors, from outdoors to group time, from group time to meal times.
·  Getting the floors mopped at midday when children are not sleeping.
·   Getting 3-year olds ready for being good 7-year olds at school.
·   Extending on children's interests with follow-up after follow-up, and a paper trail to match.
Let's go with that last one...
The word 'extend' is mentioned 13 times in the Australian Early Years Learning Framework (EYLF) in relation to children's interests and learning. So, it's no wonder the term has become embedded in educator's language. But what does it really mean?
Sarah Daley recently posted on an educator forum about this topic. She mentioned how she's not satisfied with the word 'extend' as it is frequently misunderstood, resulting in follow-up experiences which often end up being implemented via a teacher's lens, as opposed to the child's lens. Sarah makes a good point. It is very difficult to sense the world and experience from the child's perspective. We tend to apply our own thinking and knowing about the topic and lead things in a direction that may be as far removed from the child's actual interest as can be. My colleague, Stacey McWilliam tells a story about how she once spent weeks 'extending' a child's interest in butterflies, exploring the life cycle and complete metamorphosis of the insect. She was disappointed by the child's complete lack of interest, only to discover some weeks later that his interest actually lay in the movement of the wings. It was wings that made his eyes sparkle. Not larva or pupa or chrysalis. Stacey is an exceptional reflective practitioner - so she noticed this. I'm not always seeing that level or critical reflection applied to the design of programs that are heavily based on planning activities to 'extend children's learning'.
In Sarah's post, she offers these examples:
·  A 2-year-old child who enjoys playing with trucks may be disinterested in learning about the construction, safety and logistics of trucks. They may be more concerned with the sense of movement, sound, and sight of the machines. Or the power and strength they embody when playing with a truck.
·  A 3-year-old child who enjoys manoeuvring a fish around in shallow water may not be interested in learning about sea creatures, beach experiences, and different types of fish. Perhaps their interest is how their senses are connected to the experience.
Sarah asks, "why do educators plan for and implement such grand and over the top experiences when most of the time, children have moved on the following day?".
She offers a suggestion of placing less importance on extending interests, and instead provide children direct access to the tools and materials to extend their learning in their own time.
"For example, I would provide them with a basket of measuring equipment, tape measure, ruler, etc, to use as they wish".
Sarah's thoughts reminded me of an EYLF pirates article from years ago; Bend at the knees and EXTEND.
Jeanne de Clisson so articulately states:
"There seems to be this EYLF quest for the perfect extension activity or experience that will meet all the assumed requirements: learning outcomes, practices, principles, centre philosophy, theory, child's interest, culture, child led, teacher led, parent input, spontaneous and planned, indoor, outdoor, group, individual…
Is this what we are coming to? Are we a bunch of seekers of the superficial? Are we nothing but contrived irrelevant 'Box Tickers'? What purpose do we serve if curriculum and teaching can be outsourced so easily? Why do we even bother getting qualifications if all we have to do is ask a question, find someone else's answer, implement it and then tick off that we are done?"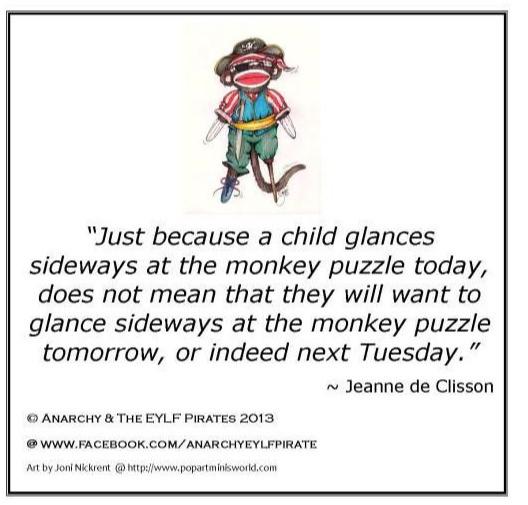 In her article, Jeanne sites the Guide to the National Quality Framework (Australia) under 'Responsive teaching and scaffolding' that states "Responsive teaching is achieved by valuing and building on children's current and evolving strengths, skills and knowledge to ensure their wellbeing, motivation and engagement in learning. Children learn best when the experiences they have are meaningful to them and are focused on the here and now." (ACECQA, 2017).
She further ponders, "Well, the more I engage with children and quietly observe them with no ulterior motives (i.e. to produce an 'observation product' or documentation) the more I actually see. The more I am inspired and in awe and completely in love with their doing and knowing and learning. Why didn't I figure this out sooner? Well, because I had to maintain the dreaded cycle that's why. Take up the here and the now!!! I think this is where we should be, because that is where the children are."
"Early childhood education is a beautiful complex process that should be nurtured, not pushed, prodded, extended, or indeed over-extended."
So where to next?

Is it time to reflect on how children's learning is enhanced, enriched and extended in your setting? Take this to your team meeting, or reflective conversations. Discuss your current methods. Take a look at the National Quality Standard, in particular Element 1.3.1 Assessment and Planning Cycle. Discuss what YOUR planning cycle looks like. Where, how and when do you collect the documentation in each piece of the pie shown below?  Join the discussion on our Facebook group - Reflections of an educator. Use the following questions from the Australian Early Years Learning Framework to reflect on your practice:
·  What are my understandings of each child?
·  What theories, philosophies and understandings shape and assist my work?
·  Who is advantaged when I work in this way? Who is disadvantaged?
·  What questions do I have about my work? What am I challenged by? What am I curious about? What am I confronted by?
·  What aspects of my work are not helped by the theories and guidance that I usually draw on to make sense of what I do?
·  Are there other theories or knowledge that could help me to understand better what I have observed or experienced? What are they? How might those theories and that knowledge effect my practice?
"A lively culture of professional inquiry is established when early childhood educators and those with whom they work are all involve in an ongoing cycle of review through which current practices are examined, outcomes reviewed, and new ideas generated. In such a climate, issues relating to curriculum quality, equity and children's wellbeing can be raised and debated." (DEEWR 2009).
"Sometimes the best learning just happens"(Extend, extending, extensions. Teachers Ink, 2014)